Who is Butta B'Rocka? "Butta B'Rocka is a Pop/Rock Artist; striving for the best, and not letting anything get in her way. She's got her eyes on the prize!" Butta B'Rocka exclaimed in confidence.
B'Rocka started writing at the age of 12; getting rave reviews from the likes of Family & Friends. She also began performing in school plays and talent shows to get her name out there. Her career began to take form as a teenager, when she moved from her native Kentucky to Atlanta, Georgia.
Butta B'Rocka is definitely not one to be placed in a box or in a certain Genre. She is a seasoned music industry veteran, wearing such hats as: singer, songwriter, dancer, vocal producer, arranger, and the list goes on. She has lent her talents doing background vocals, dancing, and demo recording for both American, as well as International stars as: Akon, TLC, Nas, Collective Soul, Country singer Zack Brown, Japanese star Namie Amuro, Belgium superstar Sandrine, and the names keep adding up as the days go by. Her work has spanned the globe from the UK to Germany to Holland to Japan. "It's crazy because I have more placements overseas than anything. It's like once you get that buzz, people call you, B'Rocka explained. "As recent as last week, I was in the studio with German idol, Vanessa Jean Dedmon." Butta B'Rocka will actually be traveling to Germany soon to put the finishing touches on Dedmon's project. She will then head over to Belgium to shoot the video for Sandrine's single, 'Runaway' (which she co-wrote).
Just when it seemed that everything was falling into place and her dreams were being realized, a debilitating car accident put an immediate halt on B'Rocka's life & career. "It was a real bad accident that left me drinking from a straw for 6 months. I was on the brink of two possible deals on the table. Then I went through some mental & physical difficulties that took me a while to get back on my feet." However, B'Rocka would not let this drastic change in her life stop her progress. "I think the only person that can stop you is yourself! I had to come to terms with that. There is something inside of you that tells you to keep pushing, and that in me was my music. Music is a part of my life; it is my life! So, nothing can stop me but myself!!!" Butta B'Rocka shared.
Now, it's time for Butta B'Rocka!!! This seasoned singer/songwriter is taking the necessary time out to promote her debut album, "Switch Lanes". Her album is said to be an eclectic mix of all styles of music. B'Rocka has been fortunate enough to experience many different genres of music in her travels. "Switch Lanes" is a collection of funk, pop & hip-hop with a fusion of rock. She has managed to create a project that can be universally accepted "in its pop offerings and crosses genres with ease providing catchy hooks and strong vocal arrangements."
The future looks so bright for Butta B'Rocka. Especially since; she not only knows where she's going, she knows exactly how to get there. A hard worker and a perfectionist, greatness is her only option. "I'm always striving. I don't think that I've reached my full potential yet. The big prize is the Grammy and VH1, but I've definitely taken steps towards my goals. Completing my album was a major accomplishment for me; that was a big break. Shooting my video was a big break also. The video is called: "Switch Lanes", which is the first single." Butta B'Rocka ended.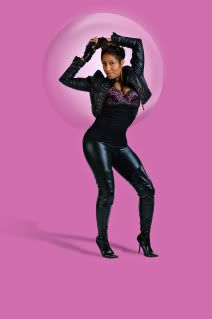 Check out Butta B'Rocka for more news, singles, tours, etc at:
www.ButtaBRocka.com
www.Facebook.com/ButtaBRocka
www.Twitter.com/ButtaBRocka
www.YouTube.com/ButtaBRocka
Leave a Reply
You must be logged in to post a comment.