"T-Boz said when she saw my tape, she said: That's Her!!!"
Some say that Acting means "to be over the top." Others say that the talent is just to be someone else. In my opinion, true Acting is to be unselfish; to leave yourself behind in spirit; to completely be the person that you are portraying. Drew Sidora did just that! She forgot about herself in the moment and truly became Tionne Watkins (T-Boz) of the legendary group TLC. "Thankfully, it was a lot of emotion to give. In life, you go through a lot of things. For me; the things I went through both good & bad helped, but obviously the bad emotional things: the hurts & pains, the losses, and the struggles is what stuck out. I had to rely on those true emotions to emote that." Drew Sidora explained. "Then I had to bring to life what I felt was Tionne Watkins, because we know who T-Boz is; her swag & persona. But… We don't see T-Boz crying. So that was a peek inside her personal life, and for us to relate to her as a human being. That was my challenge in doing the film, to bring Tionne Watkins to this film; her vulnerabilities and her not so strong, glamorous, and not so cool moments."
Since the early 90's we have witnessed TLC begin as a thriving girl group to blossoming into full-fledged legends of the game. The world has seen their lives played out as if they weren't real people. What we didn't allow them to do is be human beings! Yes – T-Boz, Left-Eye & Chilli are super talented. But, they are the same as you and me: with hurts, pains, troubles, losses, families, fears, etc. Yes – we love them, as well as the music they gave/give to the universe. But, let the ladies breathe; be human, without adding the extra burden of treating them as if they can't have problems. The biopic was great at showing that great talent doesn't come without hurdles. Most of their music was born from their inner thoughts; their personal stories. I personally loved it, and love them more for sharing their personal; true story. "It broke a lot of records that day. Overall, it was very inspirational and a great message to raise a lot of great conversation that we need to be having right now. Like, financial struggles; in which we all face. And, being knowledgeable in business and various careers. That was definitely to get across to the viewers." Sidora said.
"I got to play the coolest person ever! It was an out of body experience for me.
It was a TLC Boot Camp: the singing, dancing; getting their swag;
her emotional state. Basically, picking her brain and getting to know her.
And, I understood her."
In having a conversation with Drew and watching her portrayal of T-Boz, you get a first-hand look & feel at how much the ladies of TLC truly loved and supported one another. A lot of times, the cameras and media can be very one-sided. The TLC Story showed multiple sides of the story. All three ladies did a great job at stepping into the shoes of the best-selling girl group of all time for a brief moment. "OMG! They were very excited about how we portrayed them. They felt that we really nailed them! That was the biggest compliment." Drew shared. "You do want to please the fans, but most importantly please the people that you are playing. I mean, this is their life; their true story. And what big shoes to fill (TLC). You just want to see them happy & pleased with the performance." I sincerely commend: Drew Sidora, Lil Mama & KeKe Palmer on a job well done.
Drew Sidora is a seasoned Actress with roles on: The Game, Step Up, That's So Raven and White Chicks, just to name a few. In addition, she is a singer/songwriter formerly signed to J Records. She has been signed to Slip n Slide Records since 2008. After coming off the success of her first single on the label (Juke It), she is preparing to drop her new single and promises it will be a banger. "It's a great record that I'm really excited about. I'm just letting people know who I am: a girl from Chicago; to where I am mentally, and what I'm all about. I can't wait."
Not only does she have a multitude of talents to entertain, she truly cares and lives to empower & inspire the youth. In early November 2013, Drew Sidora launched her Dream Makers Foundation in hometown – Chicago, Illinois. "Dream Makers is basically advocating for young girls and young women that have been affected by the gun violence and [other issues] and giving them performing arts and entertainment workshops."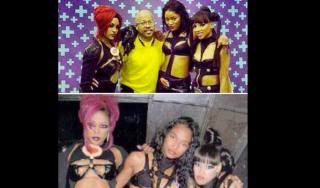 "Her mannerisms were my biggest challenge.
I had to go to a trainer to get her physical frame.
It was a lot of challenges, but I was totally ready for it!"
To conclude, Drew gave the utmost compliment to the girls of TLC, as well as the cast and crew that made this biopic come to life. "Great job to our Director, Charles Stone III – He's a visionary! I believed everybody in the TLC Cast. It definitely takes a team. Everybody bought their A-Game from our set designer, to our hairstylists, and our make-up artists. If it wasn't for them, the physical look wouldn't have been accomplished. It was just a blessing and a great project to be a part of."
Follow Drew Sidora on twitter – @DrewSidora and dial 7-2-7-2-7 on your cell phone for updates on everything Drew Sidora….
Congrats baby girl on a fantastic job, continued success and ChiTown Love!!!! Save me some Harold's…
TIl the next time….
Cutty Out!!!
@CuttyShark2010